Credit Card Travel Insurance Unwrapped: Baggage Loss/Delay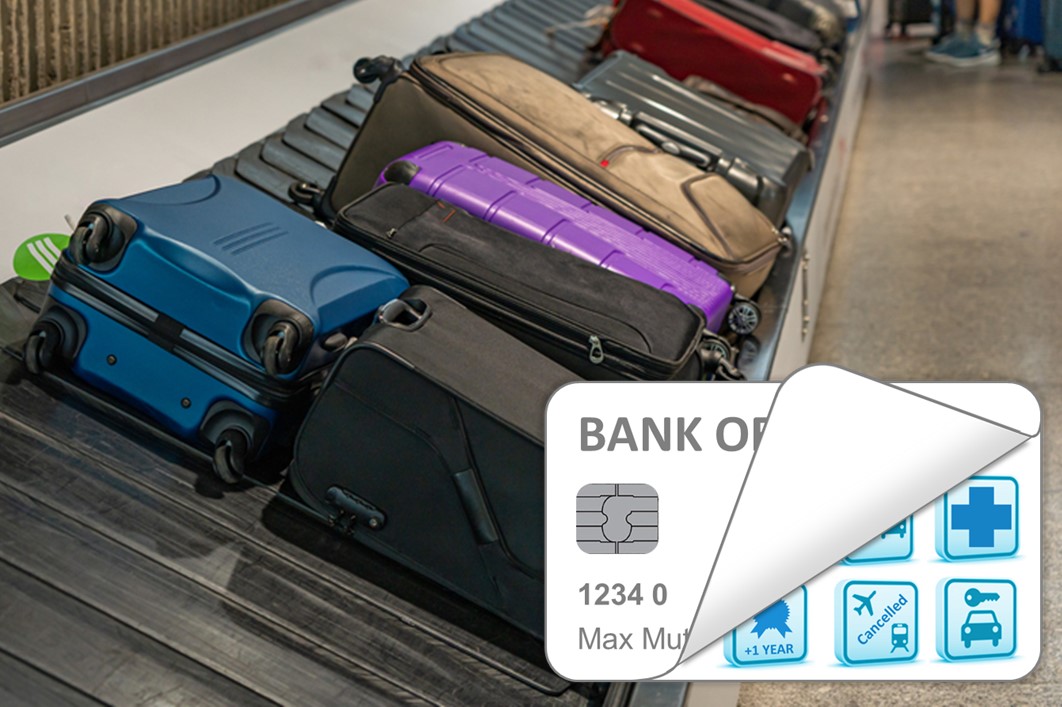 We continue our series about credit card travel insurance for travel advisors. These publications offer a detailed view on every travel insurance component that comes with credit cards and inform travel advisors about the most important aspects of the coverage.
Baggage loss/delay insurance is one of the less important travel insurance components, but, if and when it comes into play, it helps with a problem that otherwise can seriously derail a traveler's plans.
What is baggage loss/delay insurance?
Baggage delay/loss insurance covers a limited amount of traveler's costs in the event that their baggage has been lost, stolen, tampered with or delayed. Not every case is covered – but significant delays as well as lost/damaged baggage cases are typically covered. This insurance pays for the replacement of essential items that you might need until your baggage is returned, or it will pay a pre-defined lump sum if your baggage is damaged or lost.
What aspects of baggage loss/delay insurance are the most important?
Travel professionals must pay attention to the following aspects of any baggage loss/delay insurance coverage that comes with a credit card:
When the coverage begins: Coverage typically begins 4-8 hours after the occurrence of your missed connection, delayed flight, denied boarding or the arrival of your flight at your destination when your checked luggage is lost or delayed. Short delays of a couple hours are typically not seen as true delay cases from an insurance perspective.
Coverage amount: This is a fixed amount that a traveler gets when paying for any emergency expenses. Typically, there is an overall cap of loss/theft of $100, $500 or $1,000 per person and $500-$2,500 per occurrence. In case of a delay: $200-$500 per person and $1,000 per occurrence for all insured persons combined. Some insurers count the coverage amount per item of baggage (e.g. $500 per item).
Maximum length of coverage: In case of delay, this policy element defines how many days your delay-related expenses will be covered. Normally, it is not more than three days (or sometimes shown in hours: 48-96 hours). The logic is that, by that time, a common carrier will sort out the delay issue.
What are common exclusions related to baggage loss/delay insurance?
This travel insurance comes with limitations on what expenses can be covered by baggage loss/delay insurance. It normally covers essential/urgent purchases that you have to make because you do not have access to your luggage.
Typically, excluded items are money, credit cards, tickets and documents, animals, contact lenses, eyeglasses, art objects, electronic equipment, sporting equipment, etc.
No coverage is provided in a few cases, including but not limited to:
For losses occurring when the checked baggage is delayed on the traveller's return home to their province or residence
For expenses incurred after the checked baggage is returned to the traveller
For losses caused by or resulting from any criminal act by the traveller

When baggage is held, seized, quarantined or destroyed by customs or a government agency
Which credit cards offer baggage loss/delay insurance?
Most Canadian banks have this type of coverage. Typically, it can be found in the higher categories of cards, but some no-fee cards may also offer it.
More information about baggage loss/delay insurance coverage on nearly every major credit card can be found through our tool at TravelandCards.com.
What if a credit card does not offer baggage loss/delay insurance?
Though it is not essential to have this coverage, it will be considered as going the extra mile if you are able to inform a traveler that their card offers this protection, thus contributing to your tailored services.
Travel advisors can use our TravelAndCards tool to find out if their clients have baggage loss/delay insurance on their credit cards. This benefits both sides – travelers are well protected and have peace of mind, and travel advisors can differentiate their service by providing valuable advice.
Contact us if you are interested in equipping your travel agency and your travel professionals with this unique tool.