Credit Card Travel Insurance Unwrapped: Trip Cancellation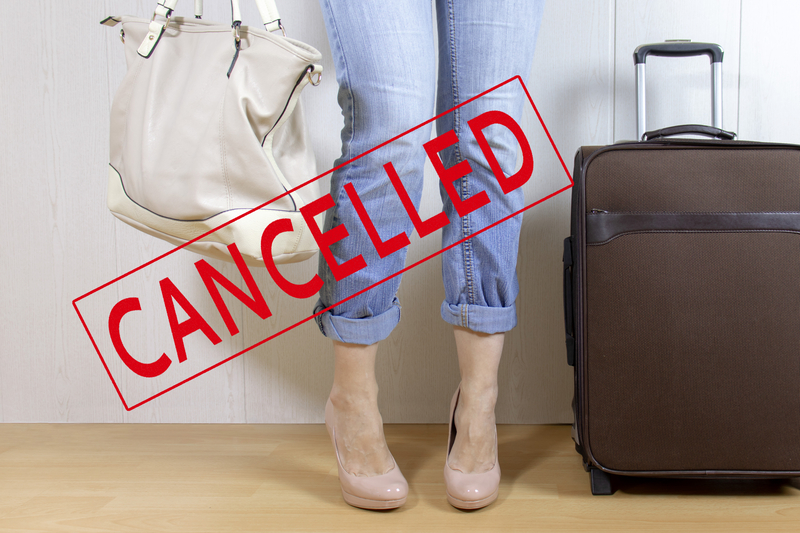 This is the next publication in our credit card travel insurance series for travel advisors. These publications provide a detailed perspective on every travel insurance component that is included on credit cards and informs travel advisors about the most important aspects of the coverage.
Trip cancellation insurance (together with trip interruption) is one of the less understood elements, especially by travellers. So, let's dive in!
What is trip cancellation insurance?
Trip cancellation insurance is one of the most important elements of travel insurance that can come with a credit card. It protects travellers in case of an unexpected event happening BEFORE the trip starts and, as a result, requires cancelling the trip, potentially forfeiting already paid costs.
If the costs are reimbursable, it is all good. But if they are not, trip cancellation insurance offers the last resort (not considering the long, legal way) to recover the costs. It is important to understand that not every possible event is covered by this insurance, but it typically covers interruptions of a serious nature (such as death or sickness of an immediate family member, pregnancy complications, travel advisory, etc.).
What aspects of trip cancellation insurance are the most important?
Travel professionals must pay attention to the following three aspects of any trip cancellation that comes with a credit card:
1. Coverage per insured person. Typical values are between $1,000 and $5,000 per insured person. When deciding if this coverage is enough, it is important to ensure that this amount covers aspects like reimbursement for an unused part of the vacation like hotel costs, cancellation costs/penalties, unplanned return tickets, etc.
2. Aggregate amount per trip. Typical values are between $1,500 and $5,000 and are rarely higher. Overall, the aggregate amounts per trip for cancellation insurance is lower than for trip interruption insurance, since many arrangements are easier to cancel as long as the trip has not started. This coverage is important for larger families, especially when travelling with children. The larger the family, the greater the financial loss from trip interruptions.
3. Persons covered. In many cases, this includes a spouse and dependent children and, sometimes, a travel companion. It is important to understand who exactly is covered by this insurance, and if needed, complement it through additional insurance.
4. Events covered: Interestingly, the list of events covered by various credit cards may vary greatly. Here is a comparison of trip cancellation conditions across two sample credit cards: RBC Visa Infinite Avion and National Bank Platinum Mastercard with major differences highlighted in green.
RBC Visa Infinite Avion
National Bank Platinum Mastercard

Your emergency medical condition or death.
The emergency medical condition or death of your travelling companion.
The emergency medical condition or death of your spouse or your dependent child.
The emergency medical condition or death of a member of your or your travelling companion's family.
Hospitalization or the death of your host at destination, your legal business partner or key employee.
A formal travel advisory issued by the Department of Foreign Affairs and International Trade of the Canadian government after the purchase of your trip, advising Canadians not to travel to a country, region or city originally ticketed for a period that includes your trip.
A transfer by the employer with whom you or your spouse is employed on your effective date, which requires the relocation of your principal residence.
Delay of your common carrier, resulting from the mechanical failure of that carrier, a traffic accident or an emergency police-directed road closure (either must be substantiated by a police report), or weather conditions, causing you to miss a connection or resulting in the interruption of your trip. The outright cancellation of a flight is not considered a delay.
A natural disaster that renders your principal residence uninhabitable.
You being called for jury duty; being subpoenaed as a witness; or being required to appear as a party in a judicial proceeding, during your trip.
You or your travelling companion being summoned to service in the case of reservists, active military, police, essential medical personnel and fire personnel.
The legal adoption of a child by you or your travelling companion, when the actual date of that adoption is scheduled to take place after your effective date and prior to or during your trip.

Illness or injury of the insured person (i.e. the cardholder and spouse or any dependent child travelling with the cardholder on a trip or child born during a trip in the first 32 weeks of pregnancy) or travel companion, as established by a physician, who also recommends cancelling or interrupting a trip.
Hospitalization, injury, quarantine or death of the insured person or travel companion.
Illness, hospitalization, injury or death of a family member, caregiver to a dependent child, business associate of the insured person or key employee of the insured or travel companion's company.
Insured person's or travel companion's summons for jury duty or to act as a witness or defendant in legal proceedings scheduled during the trip.
Disaster that renders insured person's or travel companion's principal residence uninhabitable or main place of business inoperative, if he is the owner or primary shareholder of the company.
Transfer or promotion by an employer requiring relocation.
Insured person's or travel companion's summons to service, in the case of reservists, police, firefighters or members of the armed forces or peacekeeping services.

Involuntary loss of employment, if the insured person or travel companion was a permanent employee with the same employer for over a year.

Death or hospitalization of the insured person's or travel companion's host at the trip destination.
Travel advisory, in effect at the time of the trip, issued by the government of Canada recommending against a trip to the destination once reservations have already been made.

Insured person's or travel companion's rejected visa application (unless the application was late or a similar application was previously rejected).

Premature birth of the insured person's or travel companion's child before the beginning of a trip scheduled to take place within the first 32 weeks of a pregnancy.

Her pregnancy confirmed after a trip is booked, if the trip is scheduled to take place within 8 weeks before or after the expected date of birth.

Legal adoption of his child if the adoption is confirmed after the trip is booked and the adoption is scheduled to take place during the trip.
A departing, connecting or return flight for the trip that insured person or travel companion missed as a result of a mechanical failure of the means of transportation, weather conditions, a road accident, police-directed road closure or change of schedule by the common carrier (bus, train, etc.), provided that the original travel arrangements would have allowed to arrive at least 2 hours before the flight.

Cancellation by the carrier of a cruise planned during the trip.

Theft of the insured person's or travel companion's passport.
What are common exclusions related to trip cancellation insurance?
Similarly to trip interruption insurance, trip cancellation insurance comes with a number of exclusions where pre-existing medical conditions (such as a heart or lung condition) come into play. Also, situations where a traveller might have been aware of potential issues are excluded (e.g., trip against doctor advice).
Which credit cards offer trip cancellation insurance?
Most banks have at least a few credit cards that include this coverage. Very often it goes hand-in-hand with trip interruption insurance though, there are several cards that offer one (usually trip interruption insurance) but not another. Typically, it can be found in the higher categories of cards that require an annual fee. That being said, trip cancellation limits vary widely. Most no-fee credit cards do not offer it.
Here is a list of bank credit cards offering this coverage. More information about travel insurance coverage on nearly every major credit card can be found through our tool at TravelandCards.com
Please note that this information reflects the individual, not business, credit cards on offer as of June 28, 2021.
What if a credit card does not offer trip cancellation insurance?
It is very important for travellers to have this type of coverage. We saw why during the pandemic when unexpected events drove high cancellations and trip interruptions.
Travel advisors can use our TravelAndCards tool to find out if their clients have trip cancellation on their credit card, and if needed, offer additional coverage. This benefits both sides – travellers are well protected and have peace of mind, and travel advisors can differentiate their service by providing valuable advice while increasing their own travel insurance sales.
Contact us if you are interested in equipping your travel agency and your travel professionals with this unique tool.