Background
COVID-19 impacted the travel industry more than most other industries. It has also impacted associated insurance practices. In the past, there were three main sources of travel insurance protection for Canadians.
Individual travel insurance that is purchased either together with a travel package when booking a trip, or purchased separately. 
Group insurance, which often comes with some travel insurance coverage but varies across employers and insurance companies.
Travel Insurance on credit cards that is often used by many Canadians, but this type usually comes with many restrictions and caveats that are important to know. This is the reason why many agents use the TravelAndCards tool that provides details of travel insurance on nearly every Canadian credit card.
During the pandemic, another travel insurance protection has emerged that is tailored specifically to COVID-19. This protection is offered by select common carrier providers such as Air Canada, WestJet and Sunwing, to name a few.
This article provides an overview of the COVID-19 programs of these providers, while recognizing that some other travel providers might offer similar programs.
What is complementary COVID-19 travel insurance?
COVID-19 travel insurance coverage that is offered at no cost by select providers and represents strictly travel medical coverage that ONLY gets activated if a traveller gets diagnosed with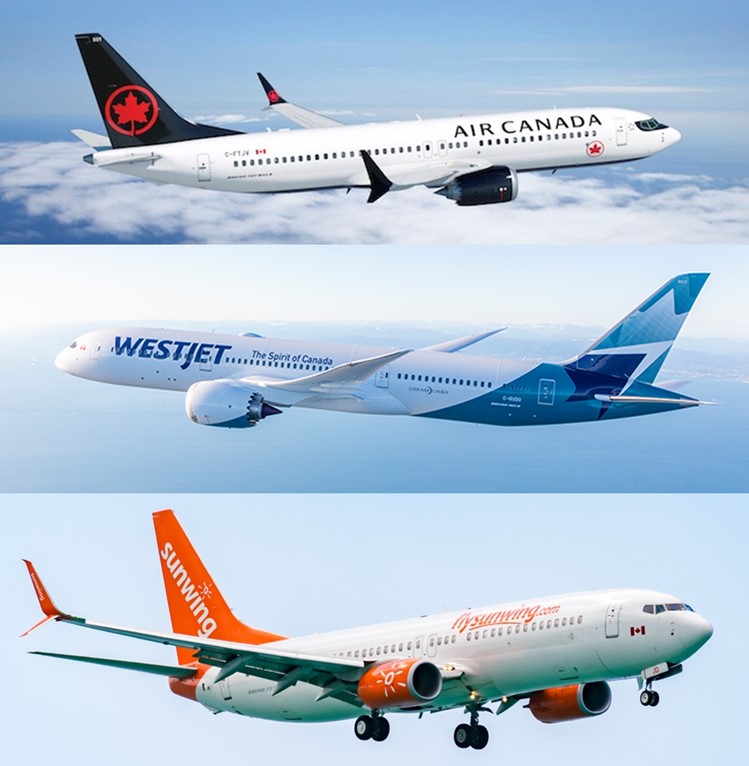 COVID-19. It is important to understand that it is the only condition when this coverage gets utilized. Any other issues such as getting a flu, breaking a leg, getting into an accident, or catching a tropical disease – none of those medical emergencies are covered by this supplementary COVID-19 insurance.
This coverage is similar across providers, offering coverage up to $200,000 CAD in COVID-associated medical expenses, and up to $5,000 in repatriation costs. All policies exclude cruises, as the pandemic has demonstrated a high level of risk when it comes to cruises.
As for Air Canada, it is only air Canada Aeroplan members who can benefit from this plan. 
So, let's compare the plans in detail.
Overview
Here is an overview of the three programs across several main domains.
| | | | |
| --- | --- | --- | --- |
|   | | | |
|   | Air Canada Aeroplan | WestJet | Sunwing |
| What trips are covered | International round-trip bookings made from February 1, 2021 until June 30, 2021 inclusively, for travel completed by October 31, 2021. | Covers travel to and from the US, Europe, the UK, Mexico and the Caribbean until October 31, 2021. Coverage is included for travel booked on or after September 18, 2020. | Bookings of all inclusive vacation packages or an air-only booking between July 6 and September 9, 2021. The plan is applicable for departures between February 1, 2021 and October 31, 2021. |
| Unique conditions | Each passenger on a booking must be an Aeroplan Member and have a unique Aeroplan number associated with their ticket. | Applies to bookings that include at least one flight operated by WestJet. You will qualify for coverage regardless of whether your first flight was operated by WestJet or by one of WestJet's code-share partners as long as your booking was ticketed on WestJet. | Applies to a Sunwing all-inclusive vacation package or an air-only booking on board Sunwing Airlines. |
| Maximum trip length | 21 days | 21 days | 22 days |
| Important exclusions | Cruises not covered | Cruises not covered | Cruises not covered |
| Only activated in the case of a positive COVID-19 test | Yes | Yes | Yes |
| Coverage limit for medical expenses | Up to $200,000 CAD | Up to $200,000 CAD | Up to $200,000 CAD |
| Emergency transport to return the traveller home | Up to $200,000 CAD | Up to $200,000 CAD | Yes |
| Repatriation due to death | Yes | Up to $5,000 CAD per insured person | Up to $5,000 CAD per insured person |
| Insurance company providing coverage | Manulife | Manulife | ToGo |
| Links | Link to the provider page | Link to the provider page | Link to the provider page |
What if a credit card does not offer enough travel medical insurance?
Travel advisors can use our TravelAndCards tool to find out if their clients have enough travel medical coverage on their credit card, and if needed, offer additional coverage. This benefits both sides – travellers are well protected and have peace of mind, and travel advisors can differentiate their service by providing valuable advice while increasing their travel insurance sales.
Contact us if you are interested in equipping your travel agency and your travel professionals with this unique tool.